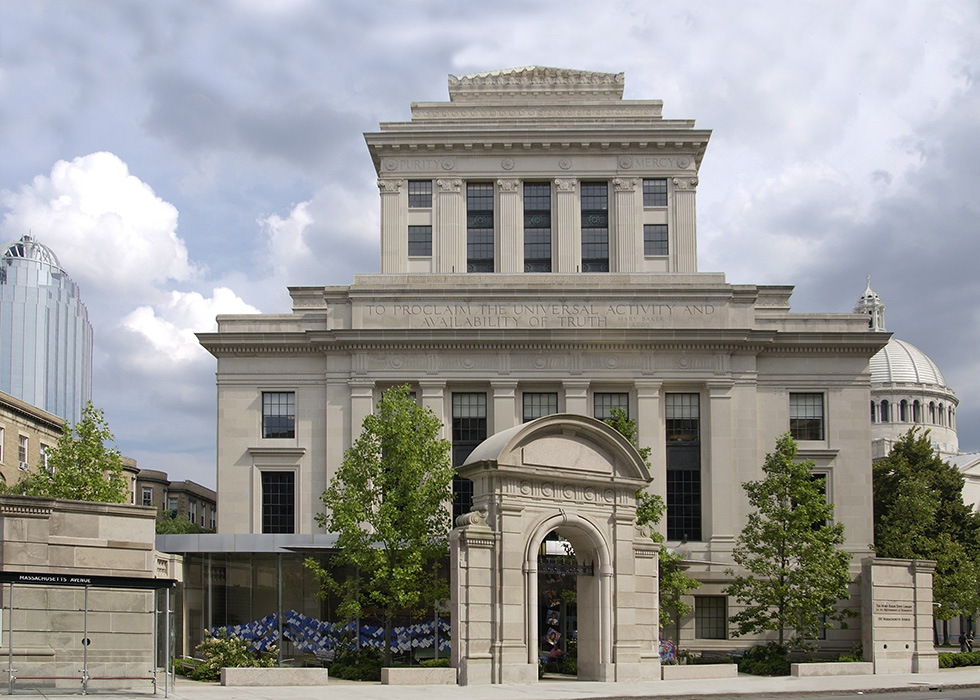 The Mary Baker Eddy Library is housed in an 11-story structure originally built for The Christian Science Publishing Society. Constructed between 1932 and 1934, the neoclassical style building, with its renowned Mapparium®, has become an historic landmark in Boston's Back Bay.
Restoration of the Library's 81,000-square foot portion of the building began in 1998, and the final renovation and additional construction were completed in 2002. Boston's Ann Beha Architects designed the renovation, including a 1,000-square foot entrance addition facing Massachusetts Avenue. Outside the entrance is a new garden, complete with water wall and pond, trees, and seating areas.
This area, which now houses the garden and Library entrance, had formerly been enclosed behind a 14-foot-high wall. During a "wall-breaking" ceremony in February 2001, significant portions were removed to make the Library accessible and welcoming to the public. The original front gate, however, was retained to maintain the powerful connection between the historic and contemporary aspects of the Library and its physical space.
The Publishing Society building is one of several structures on the Christian Science Plaza. The Plaza was expanded in the 1970s with a design by Araldo A. Cossutta, Architect-in-Charge, for I. M. Pei & Partners and Araldo Cossutta, Associated Architects. The original works for the Plaza include: a 28-story Church Administration building; the Sunday School, the shape of which reflects the dome of The Mother Church extension; a 525-foot-long Colonnade building featuring solid sunshade columns; an 80-foot-diameter fountain that sprays water as high as 40 feet into the air; and a 98- by 686-foot reflecting pool, which is almost twice as long and two-thirds as wide as a standard football field.
The Publishing Society building, created of limestone and granite, was designed by Chester Lindsay Churchill. It originally housed all publishing-related activities of the Church, including massive printing presses and bindery equipment. Engravings on the exterior include the words Purity and Mercy (facing Massachusetts Avenue), Peace and Faith (facing The Mother Church extension), and Hope and Love (facing Clearway Street), as well as verses from the Bible.