Arthur Buswell and The Associated Charities of Cincinnati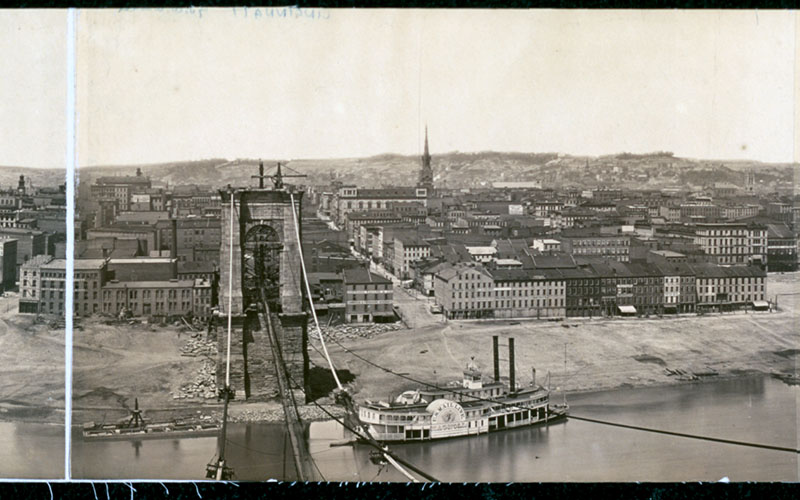 Numerous items sent to Mary Baker Eddy reveal stories of the early Christian Science movement—and the individuals who helped establish it. Three documents in our collections serve as examples: an annual report, an advertising circular, and some tickets, all related to the Associated Charities of Cincinnati. Eddy received them from her student Arthur T. Buswell.
A Vermont native, Buswell studied metaphysics with Eddy in 1879. Not long after, he moved to Ohio to promote Christian Science in the river city of Cincinnati. In early 1880 he began work as superintendent of the Fourth District Society of the Associated Charities of Cincinnati. Organized just a few months earlier, the Associated Charities were modeled after similar groups in other cities, on the premise that a centralized hub for charitable work would more efficiently help the needy.1 The Fourth District Society was the first to form in the Cincinnati area, under a central office for the whole city.
Buswell's district covered some of the central neighborhoods and included twenty-six churches of various denominations, the courthouse, and a number of municipal buildings. Volunteer "visiting committees," along with others in the community, referred those in need to Associated Charities, giving them tickets like the ones in our collection, which they would take to the District office.2 Superintendent Buswell then investigated each request and offered appropriate assistance.
An annual report, also from our collection, included a section from Buswell that describes 578 actions taken during the first seven months of the Society's work. They involved providing grants and loans, making referrals to aid agencies, and determining cases that were ineligible for help or didn't need it.
Buswell gave details on those helped, including marital and family status, race, religion, occupation, and place of residence. He emphasized that "all classes have been met with kindness and consideration."3 Indeed, expressing kindness and consideration to all was one of the Charities' goals. They believed that more interaction between organizational staff and volunteers (typically from more well-off backgrounds) and the poor families served would foster mutual respect and promote greater social harmony.4 The Annual Report praised Buswell as the new Superintendent: "It is but just to say that the success of the Society is, in no small degree, due to his conscientious, pains-taking and sympathetic activity."5
While Buswell may have begun his work with the Associated Charities as a way to both earn a living and share Christian Science, his letters to Mary Baker Eddy showed that he wrestled with the best use of his time and energies. In one letter he wrote, "I have thought seriously of giving up my work here, which is largely detail of charity, and entering the service of sweet "Science" unrestrained."6
Despite his wrestlings, Buswell was applying the teachings of Christian Science on the job, as indicated in a letter he wrote to Eddy about his own healing of smallpox, after having come into contact with many cases while at work.7 He also healed a colleague at Associated Charities—Otto Anderson, M.D., a seasoned surgeon who had been diagnosed with tuberculosis. The two often discussed their different perspectives on healing. Anderson wrote to Eddy in April 1882, saying Buswell had healed him of morphine addiction—and that "to my great astonishment [I] commenced to gain in flesh and am by this time 20 lb. heavier in weight than I was on January 1st" 8
These three documents from our archive shed light on the social history of Eddy's time. They also point to how an early Christian Scientist was engaged in the westward expansion of the movement, applying her teachings to the concerns of his day.