On the front lines: the Vest Pocket Edition of "Science and Health"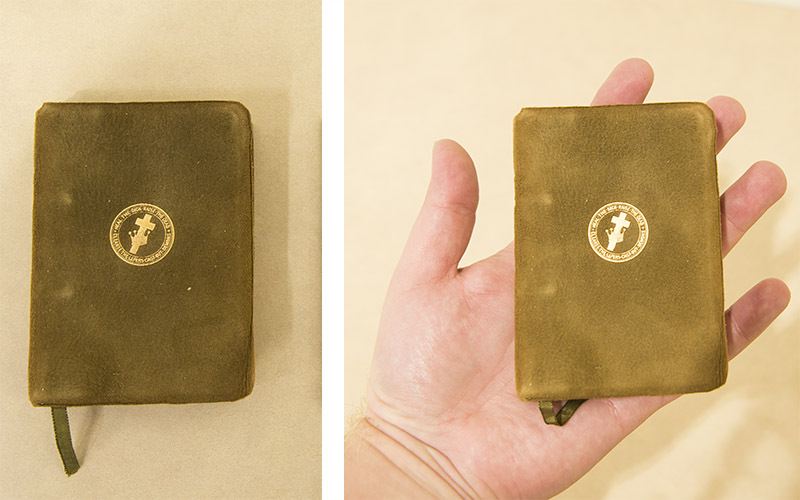 Historically, The Mother Church (The First Church of Christ, Scientist) mirrored many other American religious institutions in how it viewed the military service of Christian Scientists. Although it is based in the United States, its members have always represented various countries and national allegiances. The church strongly encouraged members to support American war efforts, including through combat service, especially during both World Wars and the Korean War. When the Vietnam conflict perpetuated marked changes in attitudes toward war and national service, the church began to recognize conscientious objection and alternative forms of service as legitimate options for adherents.1
Church support for those serving in armed conflicts was reflected in some of the pamphlets that The Christian Science Publishing Society issued during wartime. Another example was a special edition of Science and Health with Key to the Scriptures, by Mary Baker Eddy, first announced for soldiers when in 1917 the United States entered World War I. Known as the Vest Pocket Edition, it was quite small, easy to pack and carry, and especially convenient in deployment settings.
Provision for the spiritual needs of combatants had a strong precedent in the writings and actions of its founder, Mary Baker Eddy. Irving C. Tomlinson's diary tells how her efforts touched the life of one young man on the front lines. Similar to other experiences of protection that people have reported during battle, it occurred before her discovery of Christian Science:
Early in the Civil War, Mrs. Eddy learned that a young soldier was about to start for the front without a copy of the sacred Scriptures…. It was at a time when Mrs. Eddy's income was modest, and her charities to the soldiers and their families had left her on this day with but a dollar in her purse. The young man's need outweighed her own. The Holy Bible was too precious, in her eyes, not to be the possession of him who risked his life to save his country.
Also at that time, Eddy's husband was in Libby military prison in Richmond, Virginia, and her only son lay wounded in a military hospital.2 Tomlinson recorded how a Bible that Eddy bought with that last dollar not only helped the soldier spiritually but also provided physical protection. After returning from war, he presented her the book with a bullet embedded in its pages. "That rifle ball was meant for my heart," Eddy remembered the soldier saying, "and I have come many miles to show you that your goodness saved my life."3
When the first Vest Pocket Editions of Science and Health were published, an announcement appeared in the Christian Science Sentinel of November 10, 1917: "This small volume, 3-1/16 x 4-5/16 inches in size, has been provided to meet the demand for an edition of the Christian Science textbook which can be conveniently carried in the small pocket of a soldier's or sailor's uniform, and which will occupy the minimum space and be of the least possible weight." Covered with a suede-like "khaki ooze" leather, the book cost $3.00.4
Eventually vest pocket-sized Bibles and matching carrying cases were offered, enabling convenient reading of the weekly Christian Science Lesson-Sermons (found in the Christian Science Quarterly). The Vest Pocket Edition became known as the Service Edition after the United States entered World War II in 1941. The Mother Church distributed it free of charge to service personnel, along with Bibles. Production continued after the war. Blue and brown cloth covers replaced the olive drab ones beginning in 1951. In 1962 a slightly larger size came out, known as the Small Pocket Edition.
Among reports of how people used these widely distributed books to find comfort and spiritual sustenance in the extremities of wartime, an American prisoner in the Japanese Zentsuji prison camp recounted this:
Quite some time elapsed before I located any Christian Science literature in Zentsuji. Finally I found an American Christian Scientist who had a typewritten list of Scriptural texts with correlative passages from Science and Health copied from a Quarterly….

We eventually located two service editions of the Bible and Science and Health in the camp; and then other men came who would have one book or the other. Some of the books were good only to a certain page, because the men had been picked up in the water and everything on them was soaked. With so few books, it was necessary to schedule certain hours of the day when each student could study his Lesson-Sermon. This was more or less the practice during the entire time we were in Zentsuji.5
Not everyone who used the Vest Pocket and Service Editions were in the military. The books' small size and portability made them convenient in peacetime as well. One woman, whose healing of blindness was reported at the 1933 Annual Meeting of The Mother Church, added this as proof her sight had been perfectly restored: "…I suddenly commenced to see—dimly at first, but in ten days I could see to read a letter, and five months thereafter I could see to read the vest pocket edition of Science and Health."6 It's likely no surprise that over the years these miniature books often found their way into the small hands of children and Sunday School students as well.